Svanemoellevaerket
TASK AND SOLUTION
In 2011, Svanemoellevaerket in Copenhagen needed renovation of their chimneys. One of the chimneys, which protrudes 101 meters above the quay, had large patches of rust which sent rust droplets onto the other chimneys – and at the same time onto the boats in the local marina, which could result in large costs for cleaning the boats.
Oersted therefore decided to have all the chimneys washed down and at the same time to have the surface of the rusty chimney renovated.
All surfaces were washed down with a solution to remove the rust. There was only one method for this job – hands on! The damaged parts of the rusty chimney were ground down and subsequently surface treated. After this treatment, Oersted had a five-year guarantee on the surface treatment of the chimney.
During the work period of six weeks, there were four rope access technicians working on the chimneys every day.
DURATION
The task was solved within 6 weeks.
REFERENCE
Kristian Milton, Oersted
Svanemoellevaerket (The Swan Mill Plant) is a danish power station. The solution demonstrated our unique working methods. There is no other way to solve the task – above the roof of Svanemoellevaerket at a height of 101 metres.
The surface treatment on the power station was delivered within the agreed timeframe.
The solution and the collaboration created great satisfaction with the customer.
Contact us and hear more about which solutions we can offer you!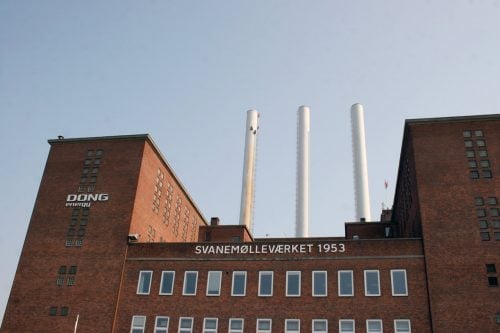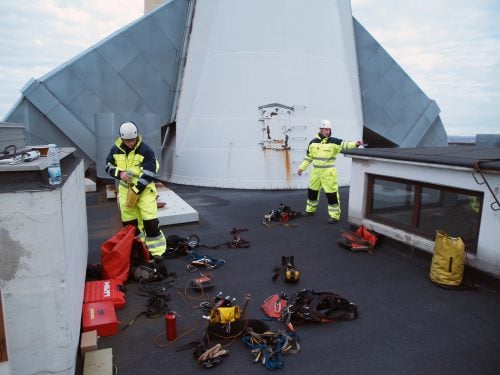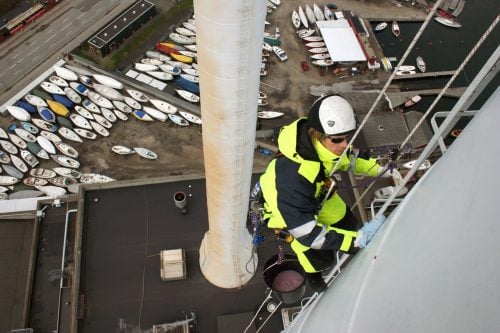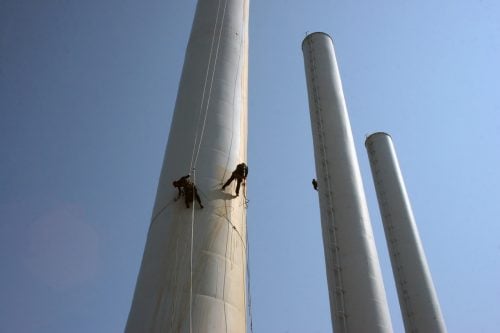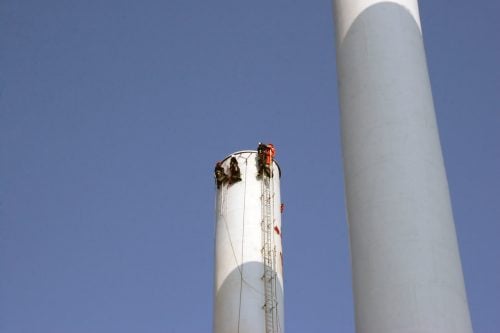 At RT9, we are specialists in solutions for mounting, repair and maintenance tasks such as surface treatment on a power station and in other hard-to-reach areas. Safety, time management and quality assurance are always at the center, and all tasks are always solved in close contact with customers and business partners.