IRATA – the highest international standard for safe work at height
IRATA (Industrial Rope Access Trade Association) is a global, non-profit climbing organization, founded in the UK in the late 80s to provide a safer working environment for working at height. Since 2015, RT9 has been an IRATA-certified company, which means that we always follow the highest international conduct for working at height when doing jobs with Rope Access.
At RT9, we provide training courses in IRATA Rope Access and fall protection course.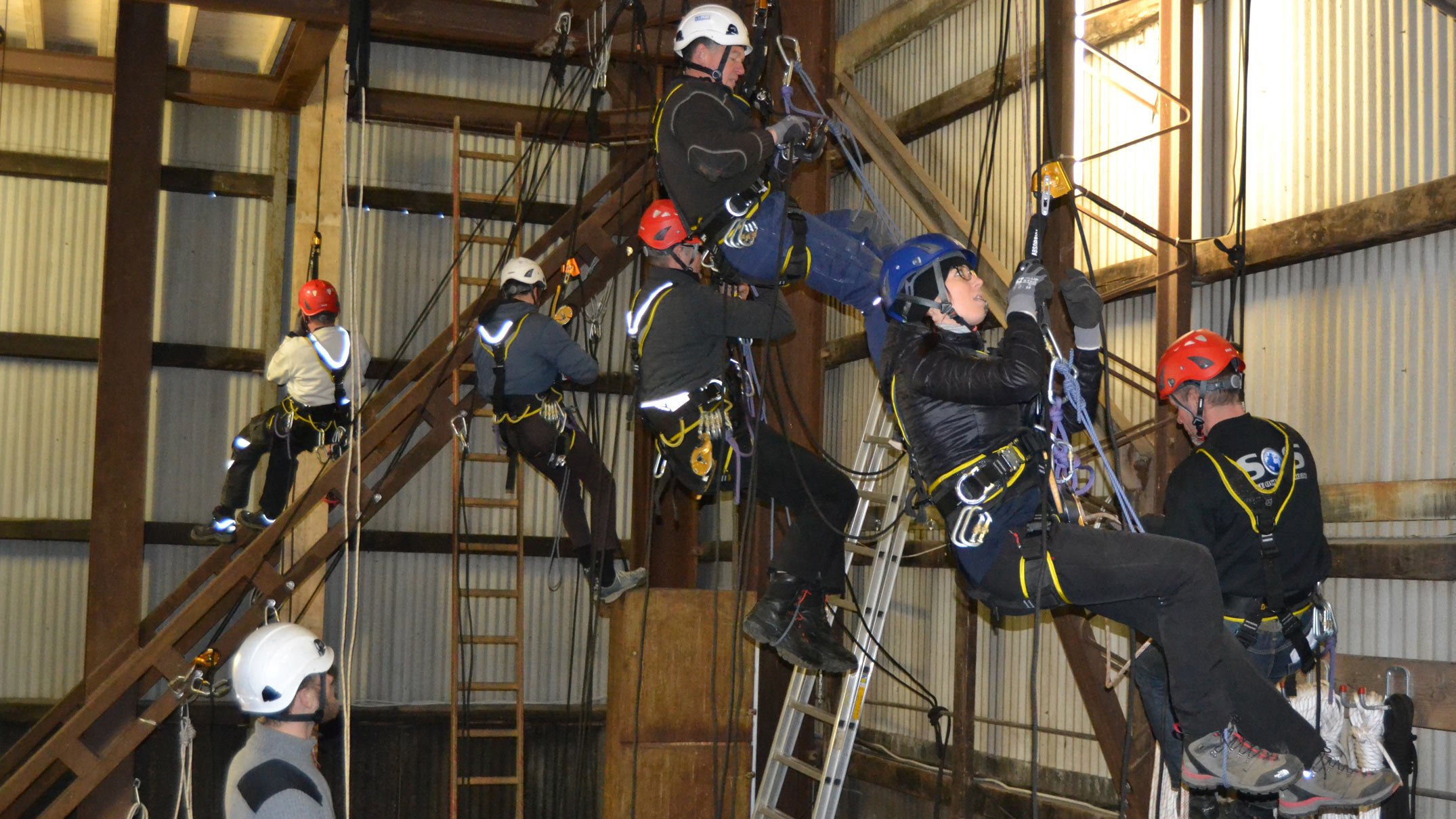 IRATA Rope Access training course
At RT9 we provide training in IRATA Rope Access in Level 1, 2, and 3. With a Rope Access certification, you will get skills and greater knowledge of working safely at height as well as how to meet the requirements and use of equipment for Rope Access jobs.
Our courses are located at Refshaleøen, Copenhagen Denmark, and runs 6-8 times per year. We have a max of 10 participants, regardless of level. The course is held over 6 days, consisting of 5 days of training and 1 day of examination. The price of the course is 12.000 dkk excluding VAT, included lunch.
Our next courses are:
The description of the courses is in Danish, the course is in English.
You can sign up for the next course here.
Level 1 is an entry-level course in which you will be capable of performing the basic Rope Access tasks under the supervision of a Level 3 IRATA technician. You will learn to inspect your own equipment, assist in rigging and gain basic knowledge about rescue and hauling systems.
In Level 2 you will be able to do a variety of more complex Rope Access tasks under the supervision of a Level 3 technician. You will also undertake advanced rescues and get a greater knowledge of safety requirements and quality assurance procedures.
Requirements: a minimum of 1000 logged hours in rope in an approved system (SOFT, SPRAT, FISAT).
IRATA Level 3 (Supervisor)
As a Level 3 IRATA technician, you will be able to supervise and be responsible for safety during the working process. You will capable of reading, understand, and write safety documents for any job, set up rescue equipment, do toolbox talks, approve rigging and make sure equipment is safe for use. As a Level 3 technician, you are responsible for the safety of the job.
Requirements: a minimum of 1000 logged hours on Level 2 and a minimum of 1 year practical experience as Level 2 technician.
If you have not been working in rope for 6 months, you will need to do a refresher training course before starting a course on Level 2 or Level 3. The training is completed in a day and will walk you through the requirements for your level as well as an update on what is new within Rope Access.